Before I was an advanced Jew wise person, when I was a kid, there was a mental hospital outpatient place on the outskirts of my town. This building was an old hotel converted into apartments for these so called recovering mental patients from a much much larger mental hospital, not oddly many were Jews.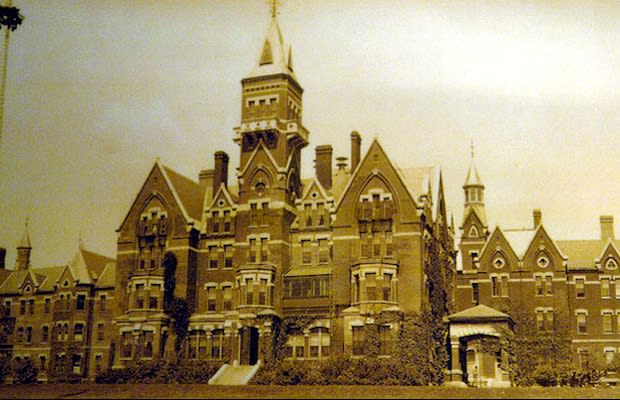 Before pedophilia was even thought of in the USA there was a very tall Jew named Howie who used to follow us around. Howie was about 6'5 or so and walked around town every day all day with a big smile on his face. Once in a while he was like a wild dog yelling and screaming at nothing, everything. Howie was the first person I ever knew throughout childhood to be who we now know as a pedophile, but apparently the much bigger mental hospital was booked and Howie ended up on our streets. There were all sorts of characters living in this hotel for the insane, one which we called Jimmy, who was really Hymie we later found out.
Hymie was a short to medium in height guy who was shaped like the Pillsbury dough boy, he too walked around town all day with a smile on his face, almost like he was rubbing it in to everyone how happy he was and how unhappy we all were. We used to give Hymie the finger knowing he would chase us. Anyone who was with the person who initially gave him the finger was then targeted by Hymie so it was everyone for themselves when someone did it. Everyone had to outrun Hymie and hope he would not remember next time we saw him. Hymie would chase us all day long sometimes hours after we forgot about him, but usually by the next day he would forget.
We figured out that a simple "I'm sorry" to Hymie stopped him no matter how many times we did this to him or how long he chased us, he would chase us every time and cease when we wanted him to.
This is very much like David Duke is with Tucker Carlson/Hannity and the media today, once Neocons that never said a word about the Jew involvement of 9/11 and were  gleefully  paid to send our white brothers and kids to war for Jews and their lies. They didn't even apologize and David Duke forgets the vicious liars they were just a few short years ago and is back to help them with their new plans leading you right back. They forget Trumps entire family heirs are all Jews, they forget Jews involvement in 9/11 and now blame the Saudi's etc etc. All of his co-hosts are in total agreement with everything Duke says like mental lunatics who are on tape saying the opposite just a few short years ago.
The so called white movement has checked into the Oconee Hotel my old home town insane asylum that is unleashed on mankind unfettered and it's only a matter of time that they will be claiming 6 million Jews were gassed by the Nazi's. If you cannot identify this insanity maybe you too should check in.